After 5 days in Samara, it was time to head from the Pacific coast to the Caribbean. We ventured out with Brian and Holly via car towards the center of the country.
It was quite the adventure – lots of dirt roads, wrong roads, animals in the road, you name it. But so fun! We made it to the Arenal volcano but the clouds were so thick we could unfortunately only see the base. So instead we laid low for the night, swam in the local hot springs in La Fortuna, and headed out the next day for Puerto Viejo. This little town is far south on the eastern coast, almost at the Panama border. We met up with some of Brian and Holly's friends who were in town to celebrate Brian's 40th as well. So much fun to have travel buddies!
Especially in such a beautiful place!
We spent the majority of our time lounging on beaches and going on nature hikes, but also spent one morning zip lining. Oh my – so much fun! I had never been before and would definitely recommend this to anyone in Costa Rica! There were 14 different zip lines, including a Tarzan swing! I was terrified at first, but once you do the first line, it's like you're a pro. And there were even some monkeys and a sloth in the jungle! The platforms were so high too that many times you couldn't even see the ground! Made for a very cool perspective of the primary and secondary forests.
We explored all the nearby beaches by car – Uva beach for surfing, Manzanillo for lounging and a little (not too exciting) snorkeling, and Cahuita for a hike through the national park. Here we saw howler monkeys, white-headed capuchin monkeys, sloths, a raccoon, some small tree snakes, and a million golden silk orb-weaver spiders. Back at the hotel, Brandon accidentally walked straight through one of these webs and it almost knocked them over – the web strands are as strong as steel!
Our nights were spent exploring the town, eating VERY well, drinking like fish, playing Evil Apples (aka Cards Against Humanity) and rocking-out to our new favorite tune – Reggae Shark. This song came on while at a local karaoke bar and it became the song of the trip. Look it up for some hilarious Costa Rican enjoyment 🙂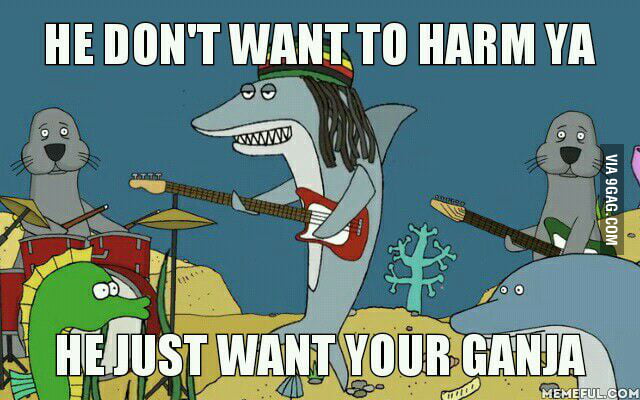 I can't write this post without also talking about our B&B host, Terry. We were staying in the guest bedroom at his home that was about a block away from the beach. His main house was a 2-bedroom, 2-bath with internal kitchen, but he added on a rather large exterior kitchen and spent most of his time there. Any time of day we came home, Terry was in the kitchen…shirtless. A little odd, but hey, it's hot in CR. And Terry was full of stories! Freddy Maugatai from Deadliest Catch was staying in his other rental house next door. We almost had the opportunity to eat dinner with Freddy's family, but it fell through…well, maybe that was our fault. We had our heart set on all-you-can-eat sushi for $15 that night lol His other rental house was also featured on House Hunters International. We ate almost every breakfast with Terry and had dinner with him one night. He's a very good cook (and a cheap one!) so it was fun to get to know him over some traditional Tico food. He's a very interesting dude, to say the least.
After two weeks with family and new friends, time to venture out on our own. Brandon and I are heading back towards the center of Costa Rica to explore Monteverde and the Poas Volcano/Mango Valley area. It's Friday February 17 and you know what that means – it's my birthday!! Sad to be moving closer and closer to my mid-30s, but I'm feeling younger and happier than ever! We spent the day white water rafting through the Costa Rican jungle down the most picturesque rapids. The water was crystal clear, a perfect chilly temperature, and the rapids were lined with mountains, lush jungle, and beautiful waterfalls! Our guide was a treat too – super fun! He had us do a lot of tricks on the rapids, like going down backwards, doing 360-degree spins mid rapid, and riding right up under one of the waterfalls. We stopped for lunch along the water and then rafted another hour to the finish line. It was an incredible day and the perfect way to celebrate 33 abroad! Forever young, right?? 🙂
xoxo
Danielle